Shapeable, reshapeable and compostable
New splint for bone fractures
A novel splint for immobilizing bone fractures has been developed that can be repeatedly reshaped during treatment, such as, for example, when the swelling subsides. This is made possible through the use of the biobased plastic PLA. After use, the splint can be composted. The bioplastic formulation was developed for the new product by the Fraunhofer Institute for Applied Polymer Research IAP (Potsdam, Germany). The innovative splint, called RECAST, was developed by injection molder Nölle Kunststofftechnik GmbH, based in Meschede, Germany.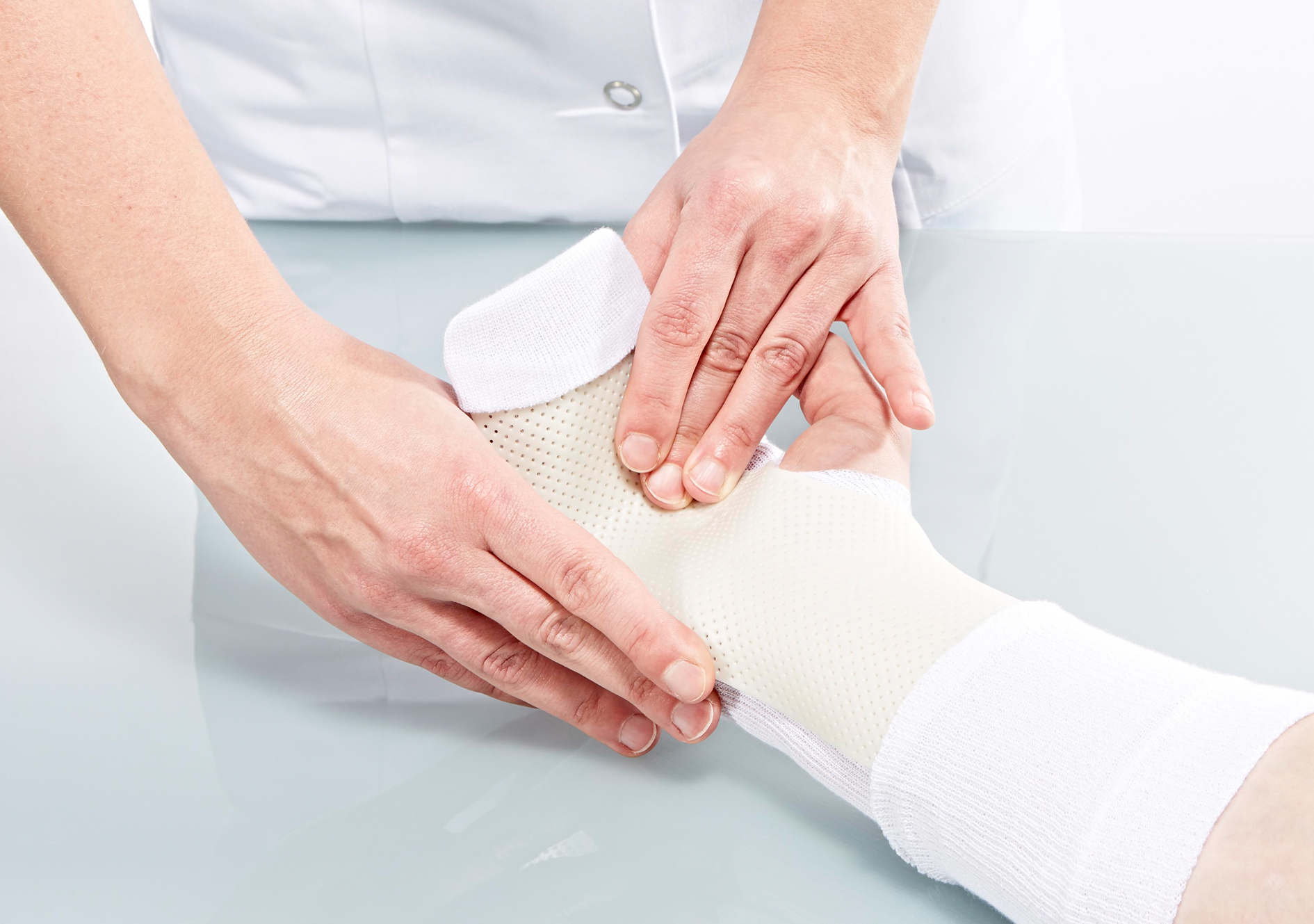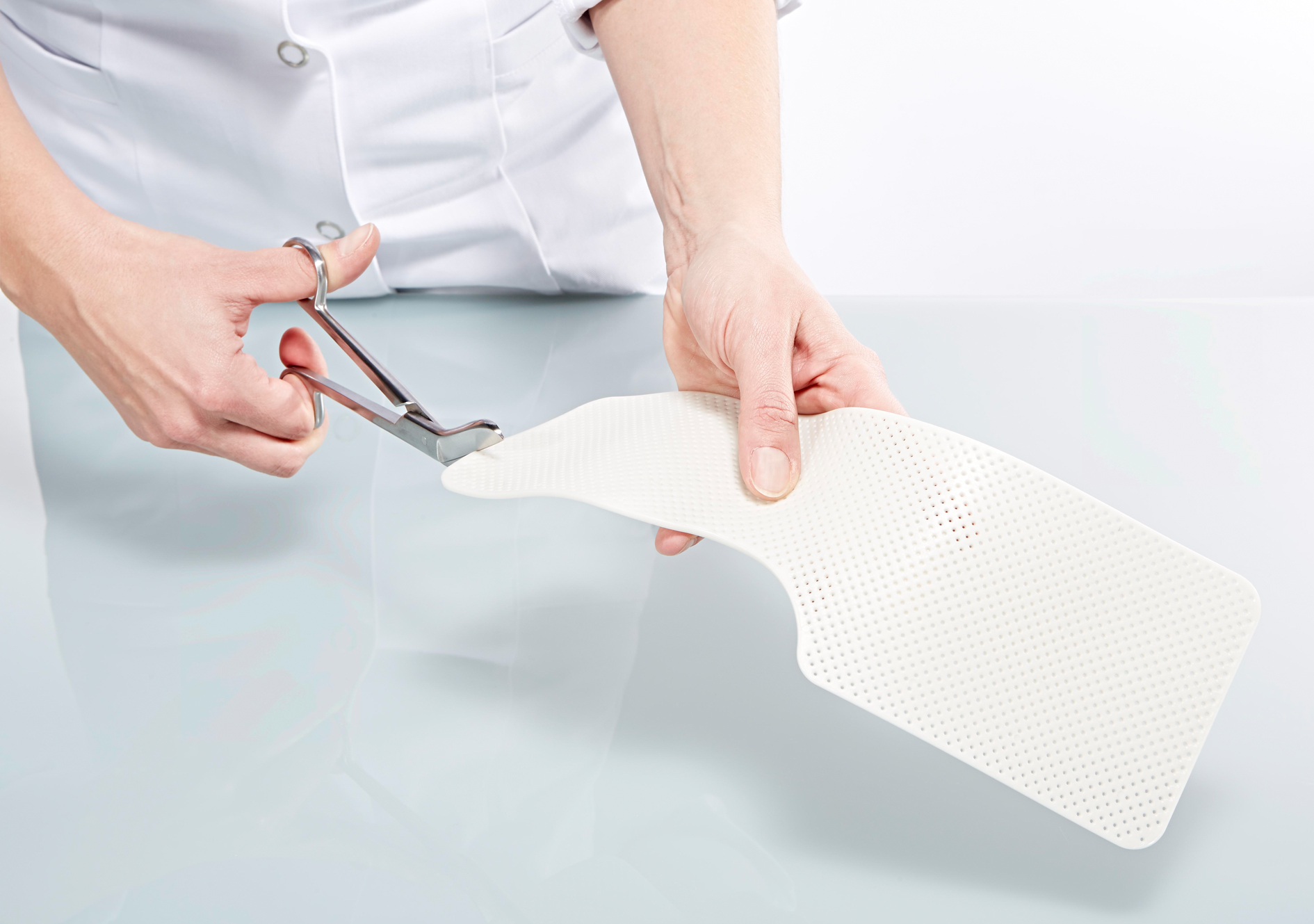 In Germany alone, up to 1.5 million fractures have to be immobilized every year. In addition, there are probably two to four times as many immobilizations for other reasons - such as infections, strains or sprains- which go unrecorded. Conventional immobilization methods are usually uncomfortable, heavy, prone to odours, complicated to apply or energy intensive. Their shape cannot be adapted as the healing process progresses, nor are they biodegradable. As a result, they are responsible for producing up to 150 tonnes of waste per year.
The RECAST immobilisation concept
Nölle Kunststofftechnik has therefore developed a new immobilisation concept, called RECAST, which makes use of variously sized preshaped splints made from biobased and biodegradable PLA. The splints are heated to between 55 and 65 °C. The temperature of the splints is then reduced to a minimum. The now formable plastic is molded to fit the corresponding part of the body. This process takes about five minutes. If corrections are necessary, the hardened splint can simply be reheated.
"We wanted to find a way for users in medical practices and hospitals to care for their patients more quickly, cleanly and, above all, on a more individual basis. For patients, we wanted to create a splint that would be significantly more comfortable and lighter," explains Anselm Gröning, Managing Director of Nölle Kunststofftechnik GmbH. "At the same time, it was important for us to use a plastic that avoids waste, is biodegradable, affordable and non-toxic," says Gröning.
Material development with PLA - from disadvantage to advantage
The plastics processor worked closely with the polymer developers at the Fraunhofer IAP in Potsdam-Golm on the development of the optimum material. "The requirements that the material had to meet were complex. For example, it had to remain formable for only a half to three minutes and then become hard and stable at body temperature. It also had to be possible to readjust the shape several times," explained Helmut Remde, head of the Processing Technology Center at the Fraunhofer IAP.
The research team decided to use PLA as a base polymer, a bioplastic that has a major disadvantage for most applications: It becomes soft at around
58 °C. "The low thermal softening point of PLA is a great advantage when used as an orthopaedic splint. This means that the product can be shaped repeatedly and quickly by heating," says Remde. The Fraunhofer researchers combined PLA with suitable fillers and developed a formulation that met all the requirements. In addition, they ensured that the material could also be produced in industry-relevant quantities.
Biodegradable PLA reduces plastic waste
The use of PLA has another decisive benefit: it is biodegradable. While the majority of common immobilising solutions generate large amounts of plastic waste, which is incinerated and disposed of in landfills, RECAST splints can be biologically degraded in industrial composters. "In this way, around 80 percent of waste could be avoided. 20 percent of the plastic waste could also be saved through the possibility of reuse alone," explains Gröning. At present, however, this composting would only work when used in doctors' surgeries or privately via the organic waste bin. Hospitals have their own waste concepts that do not provide for composting.
In order to make the splint even more comfortable for patients, RECAST products also feature a fleece padding made of PLA and viscose, which was developed jointly with the Saxon Textile Research Institute in Chemnitz. This, too, is biodegradable.