Polymer Group and Fraunhofer IAP develop new flexible PLA copolymers
Production plant for novel bioplastics starts operation
The Polymer Group has established another subsidiary, SoBiCo GmbH (Solutions in BioCompounds). The focus of activities is on flexible PLA copolymers, a novel class of bioplastics marketed under the name Plactid®. The successful development is the result of several years of collaboration between the Polymer Group and the Fraunhofer Institute for Applied Polymer Research IAP, which was funded by the German Federal Ministry of Food and Agriculture. On July 5, 2022, the commissioning of the first production line in Pferdsfeld was celebrated with 150 guests.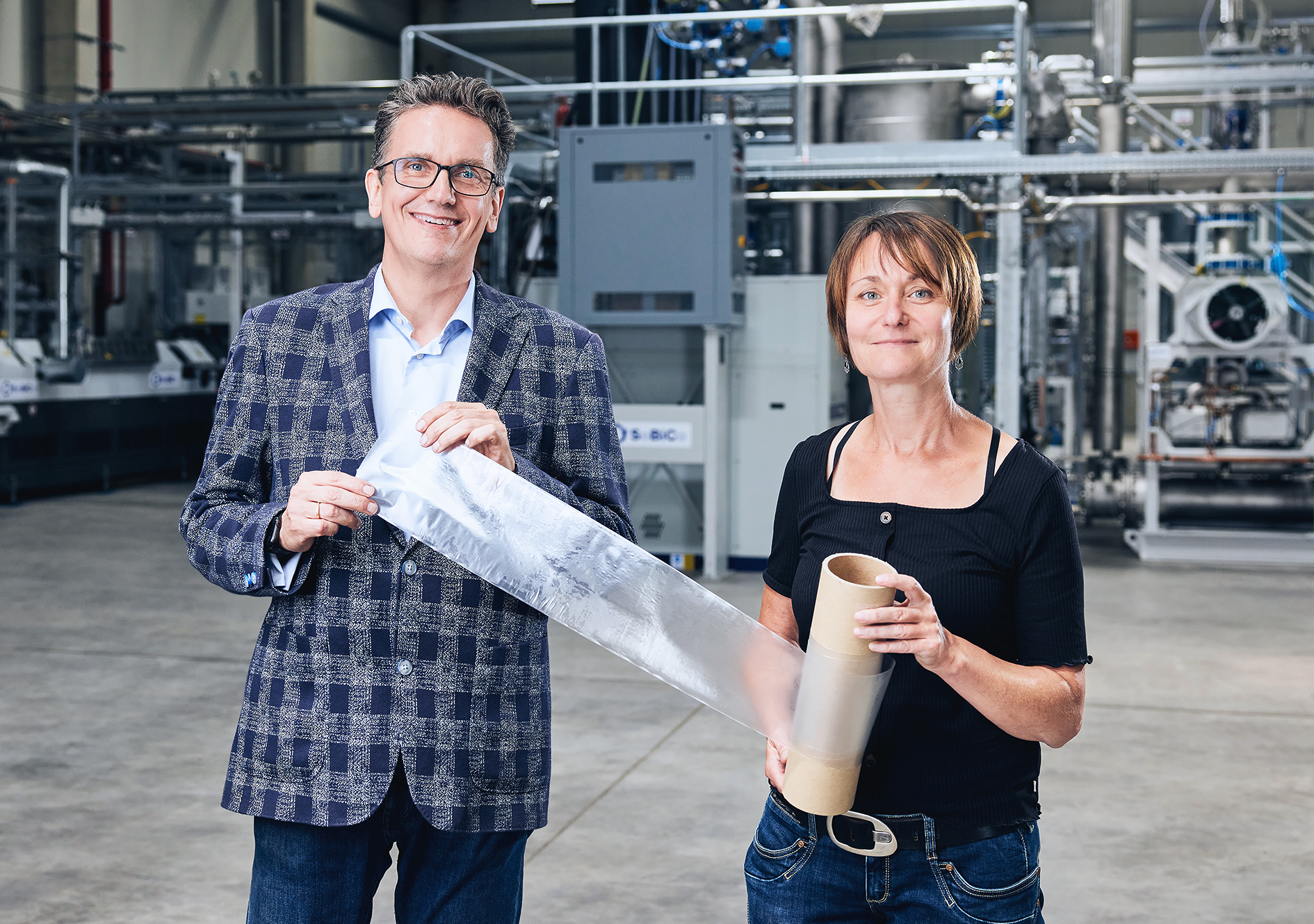 The bioplastic PLA, also known as polylactic acid or polylactide, is obtained from lactic acid and has some of the strongest market potential in the field of bioplastics. However, conventional PLA materials are often stiff and brittle. SoBiCo GmbH therefore intends to open up completely new fields of application for PLA, a bioplastic that is already widely used today, in the form of a copolymer, for example for flexible packaging films, automotive injection molded parts and thermoplastic elastomers for construction applications. "Our newly developed PLA copolymers are characterized by the fact that their mechanical properties can be adjusted over a very wide range," explains Dr. Gerald Hauf, managing director of the Polymer Group. "For example, elongations at break - a characteristic value that indicates how deformable a material is - of 3 to 300 percent can be achieved with Plactid®. This makes these bioplastics interesting for a much broader range of applications than it is the case with conventional PLA," says Hauf.
Material and process development
In both the development of the PLA copolymer and the process for its production, SoBiCo GmbH benefited from the extensive know-how of the polymer specialists at the Fraunhofer IAP in Potsdam. The production process, which is novel for PLA, is based on reactive compounding, in which a PLA copolymer is synthesized from lactide and another comonomer. The partners have combined the usually separate process steps of polymerization and compounding in a single process. This saves time, energy and costs.
Dr. Antje Lieske, head of department "Polymer Synthesis" at the Fraunhofer IAP in Potsdam, Germany, says: "We can control very precisely how flexible the material is in the end via the proportion of bio-based PLA in the plastic produced in this way. Our PLA copolymers are currently between 75 and 95 percent bio-based. Our goal in the future is to produce completely bio-based plastics with these mechanical properties that can replace petroleum-based plastics in as many applications as possible."
Production plant for novel PLA copolymers
On an area of 2,000 square meters, 2,000 metric tons of the novel bioplastics will be produced per year in the future at the plant commissioned today. In the medium term, the Polymer Group plans to locate its bioplastics activities at a new site in Idar-Oberstein on an area of around 17.5 hectares. In the long term, 30 to 50 million euros are to be invested there and a production capacity of 100,000 metric tons per year and around 300 jobs are to be created. "Our goal is to increase the share of bioplastics and sustainable materials in our portfolio to 30 percent by 2030. The joint effort with Fraunhofer IAP is our most important initiative to achieve this goal," says Hauf.
Funding: German Federal Ministry of Food and Agriculture | Fachagentur Nachwachsende Rohstoffe e.V. | FKZ: 22005717 (Fraunhofer IAP) | 22019317 (TechnoCompound, polymer subsidiary)