FDP spokesman for research policy Neumann visited new Application Center at Fraunhofer IAP
Potsdam-Golm | On September 17, 2012 the research policy spokesman of the FDP parliamentary group Professor Martin Neumann, visited the Fraunhofer Institute for Applied Polymer Research IAP in Potsdam-Golm. He was accompanied by Marcel Yon, district chairman of the FDP Potsdam and a member of the FDP state executive committee as well as by Jens Lipsdorf, european policy spokesman of the FDP faction in the parliament. Institute Director Professor Hans-Peter Fink informed the visitors about research activities in the recently opened Application Center for Innovative Polymer Technologies and the project group for "Biopolymer Applications" which is planned at the BASF Schwarzheide site.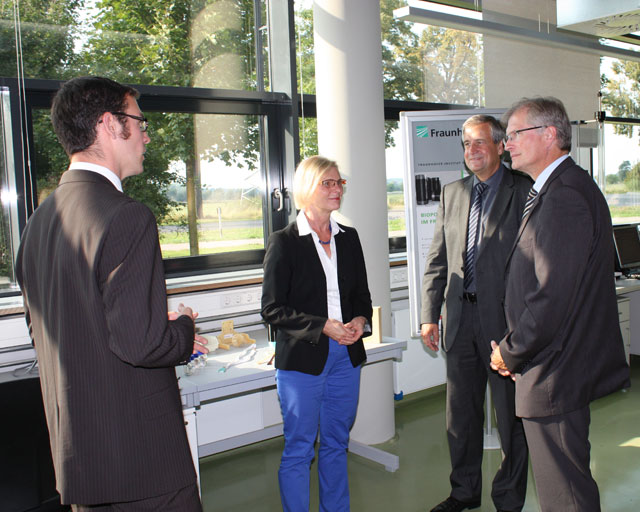 For 20 years, Fraunhofer IAP has been investigating and developing polymers. In June 2012, its new Application Center was inaugurated - two reasons that Professor Neumann and his colleagues used as an opportunity to gain an overview on the current research of the Potsdam Fraunhofer Institute. The guests were impressed by the highly innovative character of the institution. In the Application Center for Innovative Polymer Technologies, in future, new technologies for organic light-emitting diodes (OLEDs) and organic solar cells will be developed on a pilot plant scale under conditions close to industry. In particular, flexible products are to be realized here. Furthermore, the Fraunhofer researchers want to develop artificial corneas of the second generation and gain biopolymers such as lignin from plant raw materials and residues from agriculture and forestry, with the help of newly developed biotechnological procedures. This will expand the range of biobased raw materials in the chemicals industry.
"The step from laboratory to industrial production is large. Applied, industry-oriented research is a trademark of the Fraunhofer-Gesellschaft. In the new Application Center will meet those requirements, as well." explained Professor Fink. Back in 2005 the Institute already opened a Pilot Plant Center for Polymer Synthesis and Processing in the Central German Chemical Triangle Schkopau. Here, processes and procedures can be explored and developed in an industry-related scale. In the near future, the Institute will also operate at BASF's Schwarzheide site. Close to the chemical company, technologies for the processing of thermoplastic biobased plastics are to be developed in IAP's new project group "Biopolymer Applications". In particular, the Fraunhofer researchers will focus on polylactic acid, PLA. Considering factors such as functionality and cost effectiveness they plan to replace petroleum by renewable resources in as many applications as possible. For the project group's technical equipment Fraunhofer IAP receives one million euros funding from the state of Brandenburg.

The Fraunhofer Institute for Applied Polymer Research IAP in Potsdam-Golm specializes in research and development for the entire range of polymer applications. It supports companies and partners in the custom development and optimization of innovative and sustainable materials, processing aids and processes. In addition to the environmentally-friendly, economical production and processing of polymers in the laboratory and pilot plant scale, the Institute also offers the characterization of polymers. We focus on synthetic petroleum-based polymers as well as biopolymers and biobased polymers from renewable resources. The applications are versatile, ranging from biotechnology, medicine, pharmacy and cosmetics via electronics and optics to applications in packaging, environmental and wastewater engineering or the automotive, paper, construction and paint industry.
In June 2012, Fraunhofer IAP inaugurated its "Application Center for Innovative Polymer Technologies" in Potsdam-Golm. Here, the Institute deepens and expands its core competencies in the field of synthetic and biobased polymers and functional materials. Above all, new materials and technologies are transferred from the laboratory to pilot plant scale. High-tech polymers with special electrical and optical properties, biocompatible materials and renewable plant raw materials are the focus of research. The polycarbonate facade of the L-shaped annex – designed by Hascher and Jehle Planungsgesellschaft mbH – makes special reference to its use as a place of polymer research. Covering an area of 2,800 square meters, the extension offers space for new pilot plants, laboratories and offices. Special features include a clean room, a biochemical lab that meets S1 requirements, additional S1 and S2 labs and special dimmed and vibration neutralizing labs for microscopy and laser applications.