Series optimization: cutting-edge solution polymerization at the Fraunhofer PAZ enables improvement in tires
The EU tire label has made it easier for consumers to choose the right tire. For tire manufacturers, however, the label brings with it stricter requirements and related development costs. The Fraunhofer Pilot Center PAZ in Schkopau, a joint facility of the Fraunhofer IWM in Halle and the Fraunhofer IAP in Potsdam, develops rubber for these enhanced tires using cutting-edge solution polymerization, and scales them up so they are ready for series production. Our contract research benefits both our customers and the environment.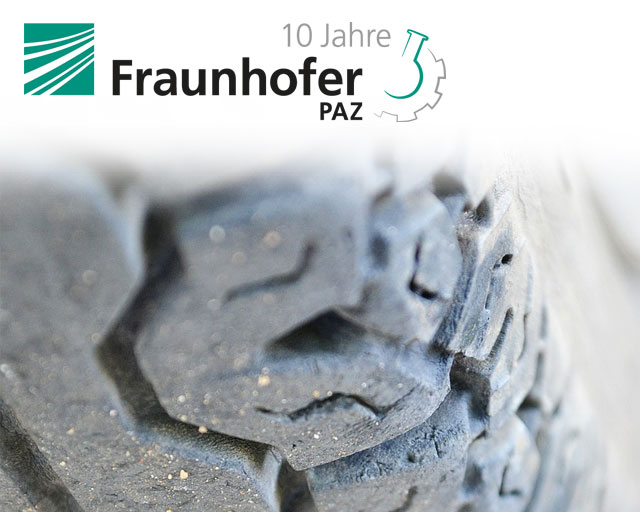 Modern mobility and environmental protection do not need to be mutually exclusive. Far from it. In fact, they even complement one another in terms of car tires. The head of the department for polymer synthesis at the PAZ, Dr. Ulrich Wendler, underscores the potential for savings when it comes to optimized tires. "Well-known environmentalists, like Jürgen Resch from German Environmental Aid, estimate that transport-related CO2 emissions are reduced by seven million tons annually in this country as a result of improved tires." That is why the Fraunhofer PAZ is tackling this topic of the future in is cutting-edge contract research. Here, rubber for tread compounds is produced for renowned companies using cutting-edge solution polymerization. There are two types of processes: coordination mechanism and anionic initiation. Both types have made strong technological and commercial headway in recent years. Today nearly all of the state-of-the-art, high-performance tires are made using these processes.
The goal is to improve the properties of tires within the magic triangle of wet grip, roll resistance and abrasion. Researchers at the Fraunhofer PAZ have been able to improve wet grip and roll resistance without negatively affecting abrasion. This sets the standard for achieving a tire label with efficiency classes A or B, verifying the enormous savings in fuel consumption and emissions while maintaining long tire life. Furthermore, an improvement in the tire's braking properties also increases driver safety.
The facilities at the Fraunhofer PAZ can conduct solution polymerization on a batch-by-batch or continuous basis. High-precision Coriolis volume measurement and a modern process control system enable precise, reproducible reaction control in 600 liter stainless steel reactors (up to 25 bars, up to 200 °C, material 1.4571). The reaction heat that is produced can be discharged through the reactor wall or through loop cooling or high-efficiency evaporation cooling. One of the advantages of the system, Wendler explains, is that "the target products are on a lower ton scale. This makes it possible to test the relevance of the material improvements at an early stage in a practice test on the tread of an actual tire."
Material development is only one issue. Another step that is just as important in the production of optimized rubber is transferring the process to production scale. The PAZ helps in scaling up new recipes for industrial production. As rubber industry partners, our researchers in Schkopau optimize the specific processes taking aspects of cost into consideration. Pilot testing new processes greatly reduces the process risks for companies down the line.
Based on the customer's requirements, the process can be scaled up from synthesis to pilot or industrial scale. "Material developments in the lab enable basic analytical conclusions to be drawn, however application-relevant trials are usually not conducted. In this aspect we offer solutions. In up to seven production lines, the Fraunhofer PAZ is able to define the process, test the conditions of polymerization and develop a customer-specific production line to transfer the laboratory product to an industrial scale," Wendler explains. At the end of a campaign comprising many test runs, which is usually completed within a month, the Fraunhofer PAZ not only delivers extensive research samples, it also makes additional recommendations with regard to optimizing the process if requested.
About the Fraunhofer PAZ
Since 2005 the Fraunhofer Pilot Plant Center for Polymer Synthesis and Processing PAZ in Schkopau has been developing new polymer products and innovative technologies along the entire value chain – from monomers, to polymer synthesis and plastic processing, ranging from a pilot scale to customized tested components. The Fraunhofer PAZ is unique throughout Europe when it comes to this combination and scale. On behalf of its customers in the plastic and automotive industries, the PAZ customizes a wide range of polymer synthesis and processing methods up to an industry-relevant scale in 1,700 square meters of pilot plant and laboratory space. This also includes light-weight construction and bio-based materials which are able to replace petroleum-based polymers.
The Fraunhofer PAZ is a joint initiative of the Fraunhofer Institute for Applied Polymer Research IAP in Potsdam-Golm and for Mechanics of Materials IWM in Halle. Under the leadership of Prof. Michael Bartke (IAP), the two institutions combine their expertise in polymer synthesis (IAP) and polymer processing (IWM) in a unique way. This collaboration, the technical possibilities on a pilot scale, and the high degree of plant flexibility are unique selling points on the R&D market.