Polymer-based lightweight construction – energy efficient curing and functional imprinting
The Fraunhofer Institute for Applied Polymer Research IAP will attend the 12th Composites Europe Trade Fair where it will present sandwich components with imprinted electronic functionality and composite materials, with and without fiber reinforcement, that are cured using energy-efficient UV LEDS. The European Trade Fair and Forum for Composites, Technology and Applications will be held from September 19 – 21, 2017 in Stuttgart, Germany. IAP's research division "Polymer Materials and Composites PYCO" specializes in polymer-based lightweight construction and is also a competence center for energy- and resource-efficient lightweight construction in the Berlin-Brandenburg region.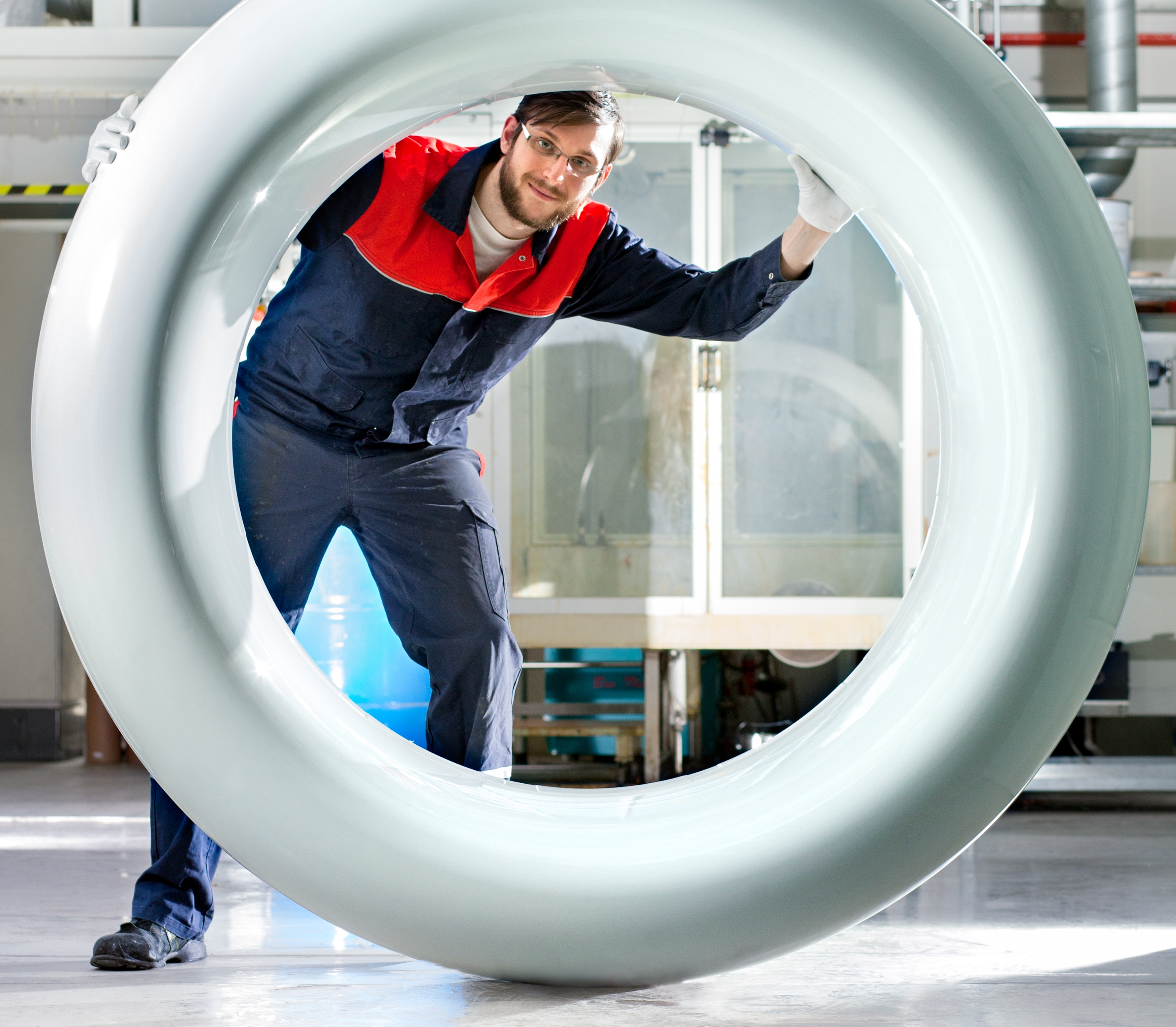 12th Composites Europe Trade Fair | Fraunhofer IAP:
Joint booth of New Materials Cluster | Hall 6, Booth C23


Alternative curing methods for composites is just one of the expertise of IAP's PYCO research division. In addition to using UV LEDS to cure plastics and produce composites, microwaves are playing an ever-greater role in the curing process. This enables components to be evenly cured in an energy-efficient way. The Fraunhofer IAP has various microwaves that can be used for a variety of component dimensions, including an eight cubic meter microwave oven and a through-put oven that holds components up to one meter wide. Dr. Christian Dreyer, head of the research division, compares the principle to baking a cake at home: "Curing in the microwave is faster and, more importantly, gentler on the component than conventional ovens like the ones we have at home. They only bake, in other words cure, the cake from the outside in. This can produce tears in the material that render the component unusable."
Polymer specialists will present samples at the trade fair which have been produced either in the context of direct contract research, as part of a consortium of BMBF programs, or in the course of diverse projects within the federal government's aeronautical research programs. They highlight the cross fertilization between science and industry in applied research, resulting in a range of applications for fiber-reinforced plastics in cross-sector lightweight construction.
"Energy and resource efficient lightweight construction is precisely what the competence center is working to achieve in the Berlin-Brandenburg region. It combines the expertise of regional SMEs in the area of polymer-based lightweight construction," explains Dreyer, who heads up the center in Wildau. It has joined forces with Brandenburg University of Technology Cottbus – Senftenberg, Wildau Technical University of Applied Sciences, Eberswalde University for Sustainable Development and experts from regional companies in order to exploit potential and conduct research projects that focus on lightweight construction. The aim is to sustainably support the regional economy. The project is financed by the State of Brandenburg with money from the European Regional Development Fund.