Fraunhofer IAP at LOPEC: Hall B0 Booth 207
Photovoltaics: easy implementation thanks to modern printing techniques
Imagine a jacket that produces enough electricity to charge your mobile phone. Imagine a jacket that does not only reflect, but light up itself when you ride your bike in the dark. Innovative printing solutions make future happen today. The Fraunhofer Institute for Applied Polymer Research IAP presents different prototypes from photovoltaics research projects at the international exhibition and conference for the printed electronics industry LOPEC 2018 in Munich, March 13 to 15. First projects resulting from the German OLED Technology Alliance (GOTA) are being presented as well.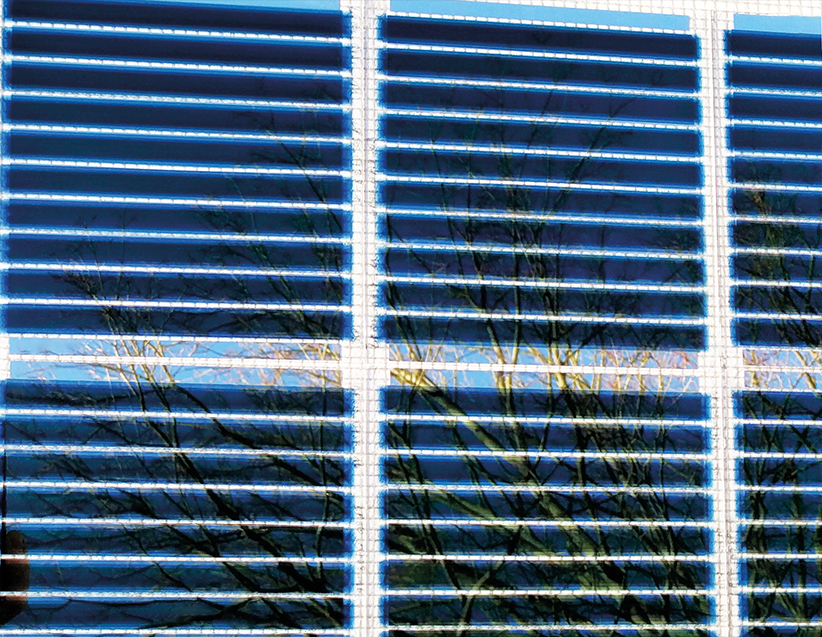 Renewable energy has become an important topic in today's society. Modern printing solutions promise the easy and cost efficient production of photovoltaics elements, even beyond architectural uses.
At LOPEC 2018 the Fraunhofer IAP displays its competences, especially regarding inkjet-printing techniques. With these solutions, façade elements for the production of solar energy can be printed. Due to the printing technology used, these elements can be produced on a larger scale with reduced costs compared to conventional production methods. Further applications can be found in optoelectronics and medicine. The process of printing is also applicable within the textile industry. Alongside a façade element the researchers display a jacket with photovoltaic elements which produces enough energy to charge a mobile phone and operate hand warming pads. The jacket even stores the energy. Currently the IAP-researchers are developing a solar powered LED-bicycle jacket together with industry partners. The project has received funding from the Federal Ministry of Education and Research BMBF.
The institute has its own pilot plant for printed electronics on which the displayed elements were produced.
"On our pilot plant we develop printing solutions in a very industry-oriented way. Together with our clients we then implement these solutions into their large scale plants based on the expertise we gather through our pilot plant. We improve our printing methods constantly and individually adapt them to our customers' needs", Dr. Armin Wedel, head of the research division Functional Polymer Systems at the Fraunhofer IAP, explains.

For small scale surfaces the scientists are working on implementing a novel drop-on demand system: esjet-printing (electro static printing), a project funded by the European Union. This technology allows the use of a wider range of inks, especially essential for printing very fine structures. Widening the range of possible inks regarding their viscosity is a big step. Inkjet-printing sets limits to the used ink's viscosity. With esjet-printing, fine metal grids with high transmission rates can be printed and thus replace conventional transparent ITO-electrodes in photovoltaics components.
The Fraunhofer IAP and the OLED Technology Alliance, GOTA
Fraunhofer-researchers also present first customer projects resulting from the GOTA alliance. The Fraunhofer IAP develops processes and materials for future OLED production facilities in close cooperation with the plant engineering companies MBraun Inertgas-Systeme GmbH in Munich, Notion GmbH in Schwetzingen and ARDENNE GmbH in Dresden. The four partners have formed the OLED Technology Alliance GOTA in order to offer the market turnkey OLED production facilities.
The Fraunhofer IAP has been conducting research on organic electronic systems for over 25 years and focuses on solution-processed devices used in OLEDs, QLEDs, OTFT, OPV, perovskite solar cells, sensors and actuators. Several processing technologies are available in a large clean room. These include spin coating, material evaluation in lab devices, advanced processing technologies, such as inkjet printing and high-precision slot die coating on a robot-controlled S2S pilot line for dimensions up to 150 mm x 150 mm, and various evaporation and encapsulation technologies.
Funding
Solar powered LED illuminated bike jacket | This project has received funding from BMBF within the framework of the project EPOS, BMBF FKNZ 03EK2529.
Photovoltaics as a substitute for ITO electrodes | This project has received funding from the European Union's H2020-NMP-PILOTS-2014 programme under grant agreement No. 646296).