New technology for warm white LEDs
Light emitting diodes (LEDs) provide significant energy savings over conventional light sources. In terms of light quality, however, conventional lighting solutions are still superior to LEDs as the latter are unable to reproduce the entire color spectrum. Most importantly, LEDs lack an efficient red phosphor to produce warmer white light. Four partners have teamed up as part of the EuroLED project to develop a nanoscale phosphor system for white LEDs based on a fundamentally new concept. By generating an energy-efficient warm white light, they hope to increase the public's acceptance of energy-saving LEDs.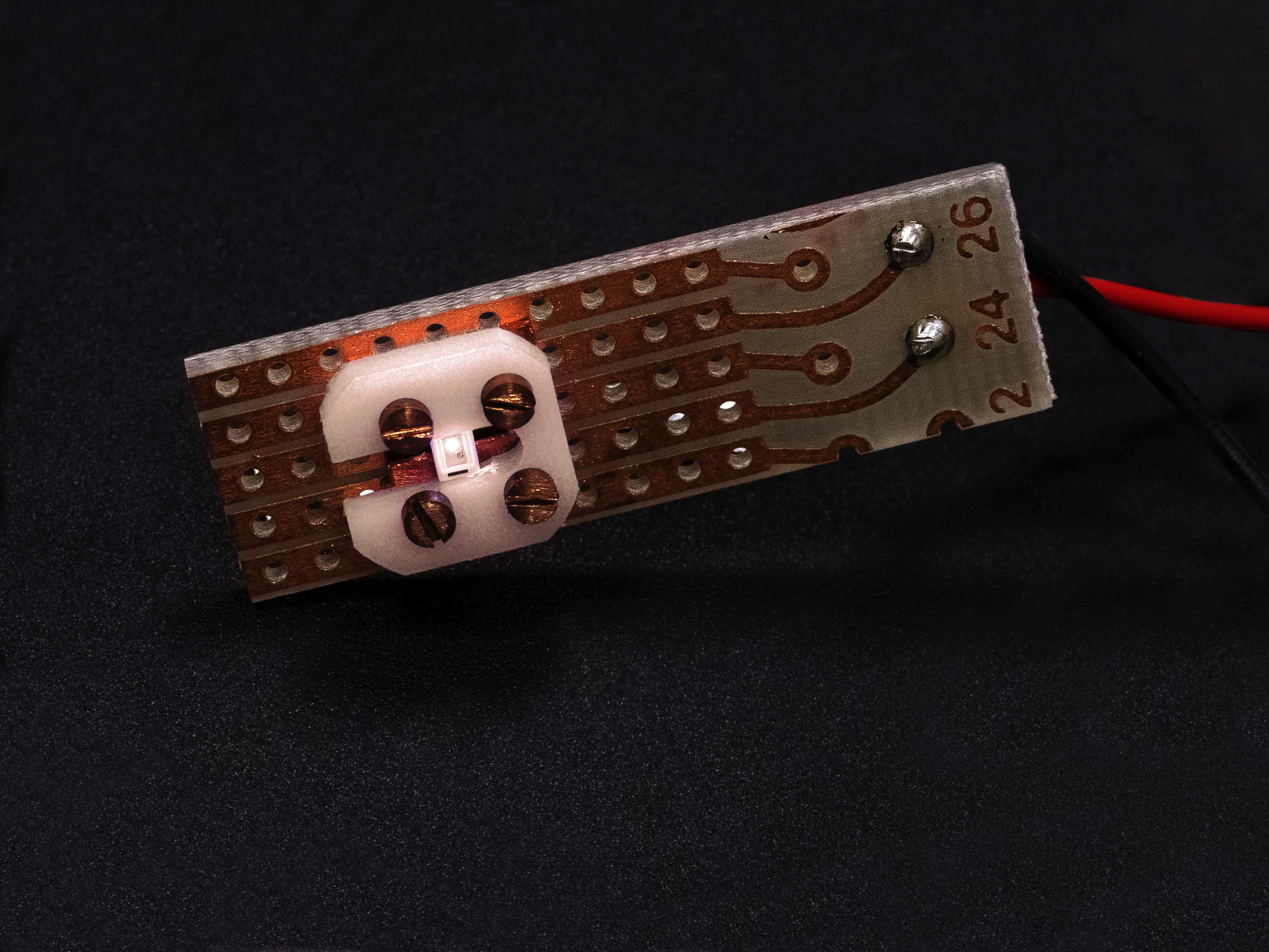 Like sunlight, the color temperature of light sources influences our well-being. The more red components there are in the perceived spectrum, the warmer and more pleasant it feels to us. A breakthrough occurred 14 years ago when LEDs were finally able to create a physiologically more pleasant working atmosphere, i.e. warm white light. The basis was the red phosphor CASN developed in Japan. Even today, white light LEDs are coated with an additional red phosphor to obtain a warm white light. However, CASN is extremely inefficient because it largely emits near infrared radiation, which is not visible to the human eye. EuroLED project partners are currently developing a suitable alternative.
Novel red-emitting light source
"At Fraunhofer IAP we have already developed and patented a red emitting nanoscale phosphor. It is based on special nanoparticles of utilizing trivalent europium ions. This narrow-band emitter material can be applied as an additional layer to conventional LEDs," explains Dr. Christoph Gimmler, who heads the project at Fraunhofer CAN, a research division of the Fraunhofer Institute for Applied Polymer Research IAP. "Trivalent europium ions have a very narrow emission band that is up to three times more visible to the human eye than the light emitted by the conventional red phosphor CASN. This makes our Eu material much more efficient than CASN ", says Gimmler.
The EuroLED project
In the project, Fraunhofer researchers will further optimize the fluorescent material based off of YVO4:Eu, placing particular focus on light yield and manufacturing costs. The project partners will then characterize the fluorescent material in detail and process it further to develop and produce prototypes of this new generation of LEDs. The technology will then be made ready for mass production and market launch.
"Originally we produced the phosphor on a gram scale. In the course of the project we will be able to produce up to 1 kg of material per batch which is sufficient for use within the project. We also have industry-scale synthesis lines available at the Pilot Plant Center for Polymer Synthesis and Processing (PAZ) that would enable us to produce the material on a ton scale."
The project is being led by Seaborough Research B.V. a Dutch SME. The research company has been active in the LED market for over ten years. Here, the EuroLED project's demonstrator LED will be built and characterized in terms of its optical properties and long-term stability. The Fraunhofer IAP is joined by two other German partners, the Research Institute of Inorganic Materials – Glass and Ceramics (FGK) and MJR PharmJet GmbH. FGK and MJR will further process and integrate the red emitting material developed at the Fraunhofer CAN as well as other components used in the demonstrator LED. MJR PharmJet also has the technical know-how and equipment to carry out these processing steps on an industrial scale.
For the 18-month EuroLED project, Fraunhofer CAN will received approx. 212,000 euros from the project's management organization, the German Aerospace Center (DLR), as part of the Eurostars funding program for research-based SMEs. The project launched on November 1, 2018. On February 13, 2019, the partners met in Hamburg at the Fraunhofer IAP's CAN research division to present their initial progress.