Surface analysis at the highest level
Only a few atomic layers determine whether a surface is water-repellent, printable, paintable, adhesive or antibacterial. The surface of many products is therefore specifically modified. Thanks to a new X-ray photoelectron spectrometer, the Fraunhofer Institute for Applied Polymer Research IAP can now analyze surfaces even more precisely, which is helpful when developing a process or determing sources of failures. Companies and partners benefit not only from the new analytical capabilities at Fraunhofer IAP, but also from the extensive expertise in material development, which facilitates the interpretation of data and the tuning of a manufacturing process.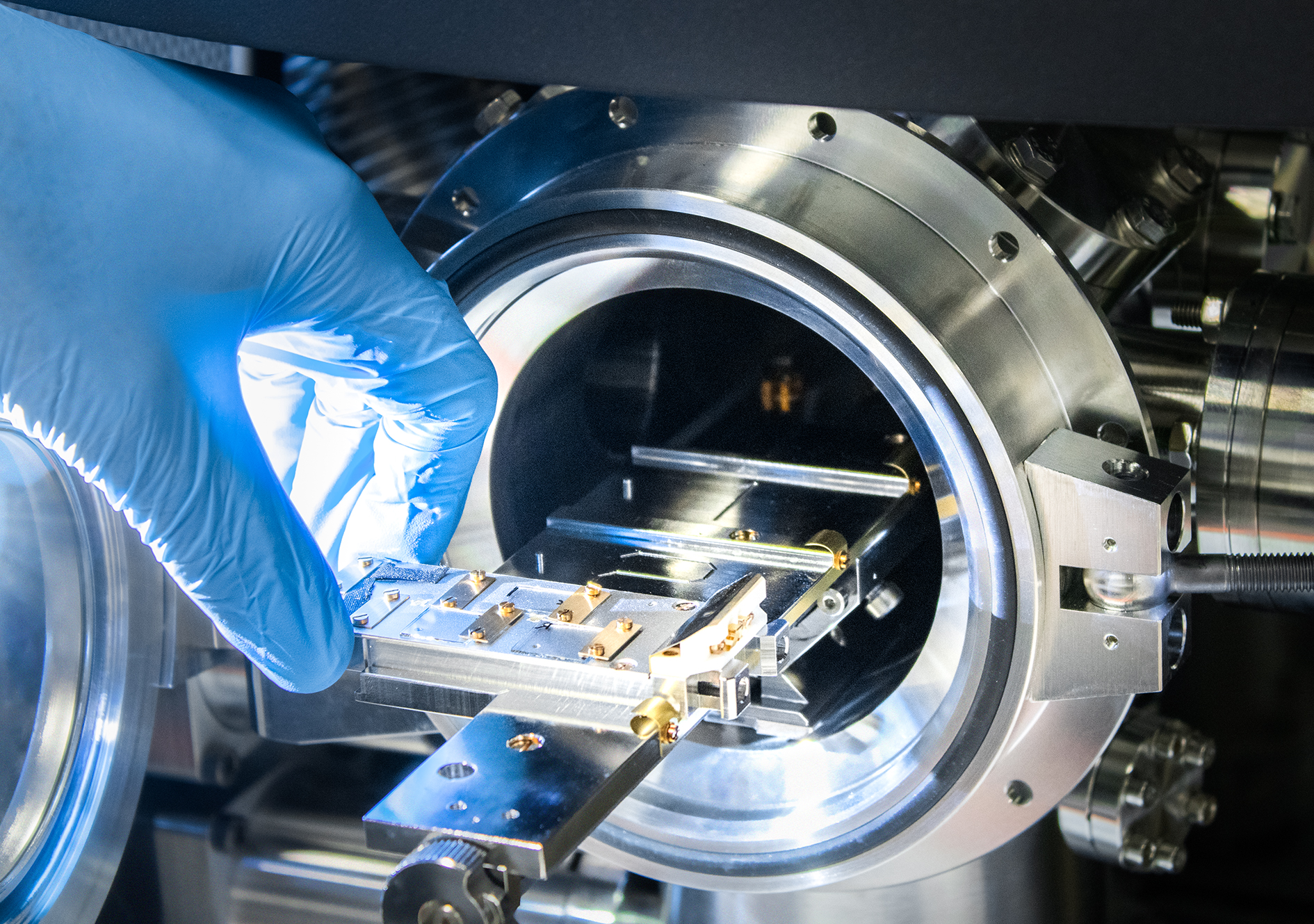 A label does not adhere well, the glued joints on furniture fail, varnish comes off the substrate or a product has unwanted stains – when this happens, the failure analysis begins for the manufacturer. However, it affects production and costs money and time. That's why it is important to identify defects quickly and find targeted solutions. Often, there are impurities on the surface, the source of which must be identified; but deviations in the material composition on the surface, of components, or even unwanted chemical reactions due to external influences can also be the cause of a defect. In order to understand the interrelationships and mechanisms that lead to these defects, high-performance analytical tools must be used on the one hand, but in-depth knowledge of materials and the production process must be available on the other. The surface experts at Fraunhofer IAP are masters of both.

Effective combination: Analytical competence meets knowledge of materials
A special expertise at the Fraunhofer IAP is the chemical functionalization of surfaces. It is an indispensable basis for many products. Knowledge of the structure of the uppermost atomic layers is a prerequisite for the development of materials, products and technologies, and ultimately also for identifying defects.
Among other things, the researchers are using a new, state-of-the-art X-ray photoelectron spectroscopy (XPS) instrument - an extremely powerful tool for analyzing surfaces. The method, also known as electron spectroscopy for chemical analysis (ESCA), now enables Fraunhofer IAP to provide an even better quality of chemical structure analysis of surfaces than before, thus reaching a new level in research and development as well as in troubleshooting.
»When our customers and partners adress us about the development of new products, we combine all of our expertise to master what are often very complex challenges«, says Dr. Andreas Holländer, an expert in surface analysis and functionalization at Fraunhofer IAP. »Our advantage here is that we combine a wide range of analysis techniques with a comprehensive understanding of materials, across all departments of the Fraunhofer IAP. This allows us to deliver a particularly well-founded range of solutions, even for complicatedapplications. Troubleshooting, but also the development and optimization of a manufacturing process, is always part of our solution package«, says Holländer.
Institute Director Professor Alexander Böker adds: »Surface functionalization and analysis is one of our core competencies. Coupled with the versatile expertise of Fraunhofer IAP scientists in polymer research, biology, interfacial chemistry, surface and process engineering, this results in a cross-institute problem-solving pool from which companies in a wide range of industries benefit - from the packaging industry to the electronics sector to medical technology.«
Text: Julia Consten